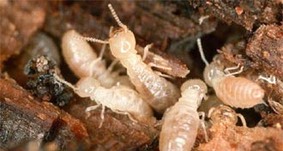 Armor-Guard
works as a Log Home Preservative.  Armor-Guard
is a water soluble inorganic borate salt with insecticidal, termiticidal and fungicidal properties.  Armor-Guard log home preservative is effective for protection and remedial treatment of wood against wood-destroying organisms, including the target pests listed below.  This product can be used for remedial treatment of wood infested with target organisms, for preventative treatment of wood in existing structures (before signs of infestations), or for pre-treatment of wood during construction.
REMEDIAL and PREVENTATIVE TREATMENT
For remedial control of organisms attacking wood, apply 10% aqueous solution of Armor-Guard by brush or spray until surface is thoroughly wet (approximately 5 gallons of solution per 1000 sq. ft.).  Application may also be made by drilling and then injecting the solution under pressure into sound wood or until run-off is observed from entry/exit holes of infested wood.
* Alternatively, apply Armor-Guard powder to infested members by drill and injection into galleries or dust generously on wood surfaces and in wall voids at a rate of approximately 0.5 ounces (12-14 grams) per square foot.
PRE-TREATMENT


Spray or powder/dust applications of Armor-Guard may also be made to wood during construction.  Apply solution to all accessible surfaces of bare wood at a rate of approximately 5 gallons per 1000 sq. ft..  Application should be performed after framing and roofing are in place and before insulation and dry wall are installed.  Avoid spaying electrical components.  Protect treated wood from excessive rain. End-cuts of wood may also be treated by spray or brush methods listed above, or by 5 minute dipping in Armor-Guard treatment solution.
Shelf Life

Application Temperature

40o to 90o

Do not freeze!

Application Methods

Airless/Low pressure sprayer

Brush

Back-brushing required

Surface Preparation

Clean and Dry

Free of mold and mildew

Never use steel wool

Frequency

Permanent in wood that is kept sealed

Re-apply after stripping old finishes before applying new finish

Special Instructions

One coat application, exterior, brushed to insure coverage

Drying Time

Coverage Rate
Armor-Guard Protects Against:
Subterranean Termites
Drywood Termites
Dampwood Termites
Powder Post Beetles
Carpenter Ants
False Powder Post Beetles
Furniture and Deathwatch Beetles
Old House Borers
Longhorn Beetles
Ambrosia Beetles
Wood Decay Fungi




To view and/or print MSDS sheets or labels you need Acrobat Reader.
If you don't have Acrobat Reader installed on your computer, click here for a free download.