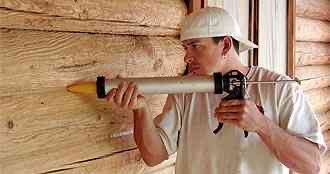 ENERGY SEAL - TEXTURED LOG CAULK

Textured Log Home Sealant for Milled and Scribed Log Homes
Since it was introduced, Energy Seal has become one of the most popular members of our sealants.

Energy Seal offers excellent adhesion and stretch movement with the milled or scribed logs, joinery, butt-joints, trim and corners it was designed for.  Energy Seal is UV-Stable and chemical resistant as well as long lasting.  Energy Seal is textured, not shiny and artificial looking giving it a professional appearance virtually disappearing into the log walls.   Energy Seal accepts the color of log home stains and wood finishes closely matching the log walls leaving a seamless appearance.
Energy Seal is easily applied by the homeowner or a professional contractor.   We offer all the accessories you will need to apply the Energy Seal yourself or our professional applicator can apply the products we sell for you, if you prefer.Energy Seal has excellent adhesion and stretch. It is long-lasting, UV-stable and chemical-resistant. 


PROUDLY MADE IN THE USA
Shelf Life

Application Temperature

Application Methods

Chink Pump
Bulk-loading gun and follow plate
Ratchet caulking gun
Application bag

Surface Preparation

Clean and dry
Backing material
Bond breaker tape on bare wood

Frequency

Special Instructions

Apply to approximately 3/8" thickness
Avoid application in direct sunlight

Drying Time

Skins over in 1-2 hours
Cure in 2-8 weeks depending on temperature and humidity



White
#507


5 Gallon Pail          $ 250.95


30oz. tubes (Cs 10)  $193.95

11 oz. tubes (Cs 12)  $ 90.95





Walnut
#565


5 Gallon Pail          $ 250.95


30oz. tubes (Cs 10)  $193.95

11 oz. tubes (Cs 12)  $ 90.95


Highly Elastic
Eliminates Air and Water Infiltration
Remains Flexible to Allow for Log Movement
Very low VOC Formula
For Exterior and Interior
Lightly textured appearance
Soap Water Cleanup
PRICES EFFECTIVE March  1, 2014
Color representations are as close as possible to actual colors.  
Application techniques, wood tones and other factors will affect the actual color when finished. 
Sample Cards and Samples are available for better evaluation on your specific job.
To place your order today, use the Add to Tool Cart links,  E-mail, or call 336-325-9986 now.
Forms of Payment:
We accept Master Card, Visa, Discover Card and American Express
Shipping:
We ship to your job site.  All orders are shipped within 24 hours of approval.  
Substantial freight discounts may occur on shipments weighing 200 pounds or more.
Terms:
Prices are subject to change without notice.
All prices are in U.S. dollars.  Seller not responsible for consequential damages.  
Returns require advance approval number and may be subject to a 15% restocking charge.